More Vendors Listed Under "Rodeos":
Return to All Vendors | Vendors: Register for Associate Membership →
"TOOFPIK"
Website: http://www.toofpikrodeo.com
Email: todd.flinn38@gmail.com
Address:
910 BURROWS AVE.
NEWMAN GROVE NE 68758
Phone: (308) 730-2022
About Our Fair:
Hello, My name is Todd Flinn, and I am interested in being the entertainment during your rodeo or bullriding this coming year. I've been involved in rodeo and bullriding for 30 years. I'm not old, but I do have lots of experience. I'm known for being a "clown" in my daily life, and I would like to share my fun personality with the crowd at your local event. I have several acts that I could do for you. This includes short skits during the bronc riding or longer skits which may include a few things going BANG!!!! I will provide entertainment during your rodeo to help keep people in the stands off their hands. I love to make people laugh and smile. I have enough acts that fans will not see the same act the next performance and then the next year fans will see something totally different than the year before. My charges can be discussed and negotiated according to how much involvement you want at your event. Thank you for considering me to entertain your rodeo in the summer of 2019. Hope to see you this summer!!!
Click on a photo below to enlarge it.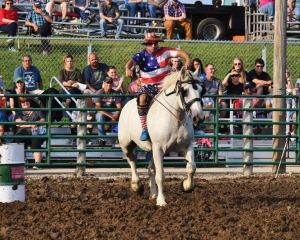 Return to All Vendors | Vendors: Register for Associate Membership →