More Vendors Listed Under "Animals":
Return to All Vendors | Vendors: Register for Associate Membership →
Critter Close-Ups
Website: http://www.critterclose-ups.com
Email: crittercloseups.ne@gmail.com
Address:
22123 County Rd P8
Herman NE 68029
Phone: (402) 679-1160
About Our Fair:
A wildly popular attraction available for private parties, corporate events, fairs, festivals and celebrations of every kind! Our monkeys, foxes, cockatoo and various other exotics are sure to delight and amuse. It's an interactive and educational exhibit that enthralls crowds and entertains young, old and everyone in between.
Click on a photo below to enlarge it.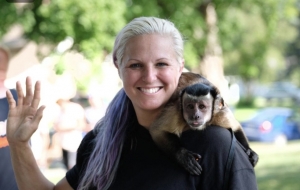 Return to All Vendors | Vendors: Register for Associate Membership →