More Vendors Listed Under "Games and Entertainment":
Return to All Vendors | Vendors: Register for Associate Membership →
Dirk Christensen - QuickDraw Caricatures
Website: http://www.quickdraw.fun
Email: quickdrawfun@gmail.com
Address:
PO Box 2171
Kearney NE 68848
Phone: (308) 440-4815
About Our Fair:
How about FREE CARICATURE DAY for attendees of your fair?



Nothing brings smiles to faces like QuickDraw Caricatures! In just a few moments, artist Dirk Christensen's creations will put a big smile on everyone at your event. People love to get in the line, because watching is half the fun!



For more than 25 years. QuickDraw Caricatures has performed at The Nebraska State Fair, Taste of Omaha, Lincoln Arts Festival, Celebrate Lincoln, Cruise Night Kearney, numerous Art in the Park and holiday events, Grand Island Children's Festival, Greeley's Irish Festival, Chadron's Harvest Moon Festival and is welcomed back yearly to college, corporate, community and post-prom events at locations across Nebraska, Iowa and Kansas.



Dirk is based in South Central Nebraska at Kearney, so many locations are accessible. His 11" X 14" black and white or color caricature creations are appropriate for all ages. Each is provided in a clear plastic sleeve and executed in media that looks sharp and is nearly impossible to smear.



If QuickDraw Caricatures can help make your special event even more special, please request a free quote by e-mailing Dirk Christensen at quickdrawfun@gmail.com. You can also call (308) 440 - 4815 visit the contact page at WWW.QuickDraw.FUN
Click on a photo below to enlarge it.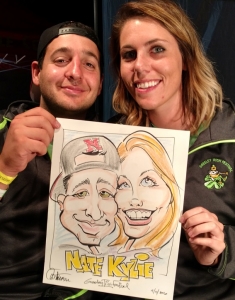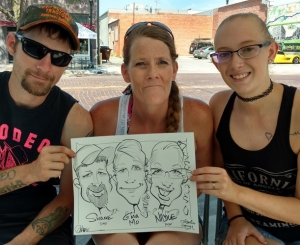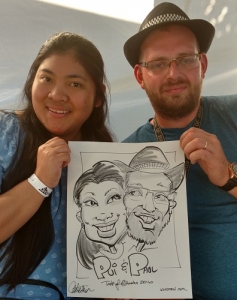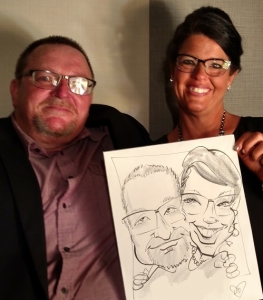 Return to All Vendors | Vendors: Register for Associate Membership →