More Vendors Listed Under "Concessions":
Return to All Vendors | Vendors: Register for Associate Membership →
Papa Tom's BBQ
Email: scrinc@hotmail.com
Address:
19488 Valley Road
Fullerton NE 68638
Phone: (308) 550-0254
Fax: (308) 536-2050
About Our Fair:
We serve Smoked Brisket, Bourbon Honey Pulled Pork, Smoked Brauts, smoked brisket nachos, pork nacho, Carnivore's Delight, Cowboy Beans, Cornbread Surprise,"The Husker", pecan wood smoked Baby Back Ribs, prime rib sandwich, with potato or pasta salad, coleslaw, chips, pickles and several drinks. We also can serve breakfast including biscuits and sausage gravy, smothered eggs, breakfast burritos, smothered burrito, sausage or bacon egg cheese biscuits and home-made cinnamon rolls. Available for fairs, festivals, graduations, weddings or any family event that appreciates real food. References available.
Click on a photo below to enlarge it.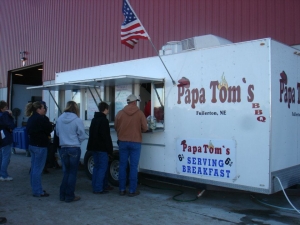 Return to All Vendors | Vendors: Register for Associate Membership →