More Vendors Listed Under "Agents":
Return to All Vendors | Vendors: Register for Associate Membership →
G.L. Berg Entertainment
Website: http://www.glberg.com
Email: info@glberg.com
Address:
825 Nicollet Mall, Suite 801
Minneapolis MN 55402
Phone: (612) 361-6002
Toll-Free: (888) 654-6901
About Our Fair:
G.L. Berg Entertainment has spent over 30 years building an award-winning talent portfolio to serve the fairs, festivals and special events market. Our standards are high. Each of our entertainment options must not only be great, but offer a positive, family-friendly experience to our audiences.



YOUR FREE-STAGE ENTERTAINMENT EXPERTS!

Representing the country's top variety performers!



Hypnotists - Jugglers - Magicians - A Cappella - Music - And More!



Just a few of the Nebraska fairs we have worked with recently include:

-Otoe Fair

-Valley County Fair

-Deuel County Fair

-Colfax County Fair

-Cuming County Fair

-Dodge County Fair

-Knox County Fair





On a national-level we regularly work with the following fairs:

-Wisconsin State Fair

-State Fair of Texas

-Minnesota State Fair

-Arizona State Fair

-Iowa State Fair

-Utah State Fair

-Missouri State Fair

-Florida State Fair

and many more!





We look forward to working with you to enhance your fair's entertainment!
Click on a photo below to enlarge it.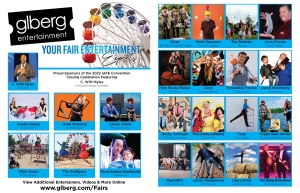 Return to All Vendors | Vendors: Register for Associate Membership →