Return to All Vendors | Vendors: Register for Associate Membership →
Artists and Attractions
Website: http://artistsandattractions.com
Email: kyle@artistsandattractions.com
Address:
1234 9th Ave SE
Dyersville IA 52040
Phone: (563) 920-4794
About Our Fair:
Artists & Attractions is one of the largest full service entertainment management companies and agencies in the industry. We specialize in quality entertainment for concerts, fairs, festivals, casinos, performing arts centers and and special events of all types.



Artists & Attractions has a knowledgeable and courteous staff that personally book and assist with hundreds of shows and events annually all across the United States.
Click on a photo below to enlarge it.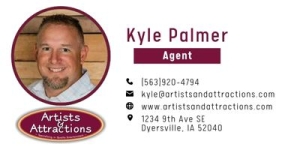 Return to All Vendors | Vendors: Register for Associate Membership →