More Vendors Listed Under "Acts":
Return to All Vendors | Vendors: Register for Associate Membership →
Wild Roses
Website: http://https://wildrosesband.square.site
Email: wildrosesband20@gmail.com
Address:
2121 W. 39th St #69
Kearney NE 68845
Phone: (308) 660-5208
About Our Fair:
Formed in Kearney, NE in the spring of 2020, Wild Roses has risen to be a key player in the Nebraska rock scene. With energetic live shows, the self-recorded "Wild Roses EP" and recent EP "Blooming," the band has driven into the broader mix.



With a sound and style reminiscent of classic '70s and '80s hard rock, Wild Roses bring their own twist to the genre with fast-paced original songs such as "Rock This Town," while keeping the rock tradition exemplified in "Wasted Time" and latest single "Medicine".



Wild Roses' EP "Blooming" was recorded and mixed by Kent Lutt of Tone Tree Audio, mastered by Saff Mastering and was released October 14th, 2022.
Click on a photo below to enlarge it.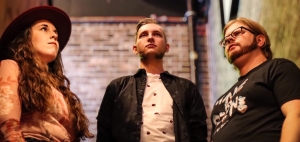 Return to All Vendors | Vendors: Register for Associate Membership →